Abril/Mayo/Junio 2006
NEW MEMBERS

WELCOME to visual artists
Andrew Nhlangwini from South Africa,
Maria Helena Leal Lucas from Brasil,
Chungtar Chong Lopez from Venezuela
and Abdel Aziz Hamad from Sudan
new Group 21 Plus Members
Actually we are 31 nations represented by our organization

WEBSITE

AS YOU HAVE NOTICED OUR WEBSITE KEEPS GROWING. In fact actually you may see a set of well ordered Sections which when you move trough give you the contents for those Sections.
Those Sections are:
DOCUMENTS,
(ENCOUNTERS) :
CHANGCHUN 2004,
MADRID 2006
& JAMAICA 2007,
MEMBERSHIP,
CRITIQUES,
EXCHANGES,
ARTWORKS,
ASSOCIATIONS,
GOVERNMENTS & INSTITUTIONS
and NEWSLETTER the latest Section.
So I DO HOPE this simple order will be useful and fast for all who want to get easy access to all our activities at the speed of light.
21Plus Website


THIRD ANNIVERSARY

This coming July our organizacion Group 21 Plus will celebrate its Third Anniversary of having been envisioned when we visited the city of Changchun in the Province of Xilin in the Popular Republic of China. As a creative and global group dedicated to the promotion of an Art for Peace.
From my position as a Chairman I send to all our Members as well to our Collaborators the warmest and most affectionate greetings so we can celebrate this date in Health and Creative wellness.
For a lasting art for Peace and Friendship!
Cheerss Dear Colleagues!


JAMAICA 2007: ONE LOVE

Even though Basil Watson still looking around Kingston for a good spot to celebrate our Annual Art Exhibition we keep pursuing our full project in Jamaica.
In fact you may see some of our sculptures small models at the top of this newsletter as well in our web site section dedicated to Jamaica 2007. Models aalready presented by Noboru Yurugi from Japan, Amani Hassan from Sudan, Jose Luis Viejo Palacios from Spain and Alberto Cerritos -our Chairman- from Canada/El Salvador.
We remind all our Members to do so to continue the completion of the first stage of this ambitious Project dedicated to Peace.
We all have to keep in touch with Basil Watson in order to let him know we are supporting him in his efforts to make this Project possible.
Note & Pictures

GLOBAL CULTURAL EXCHANGES.

Following our work promoting cultural Exchanges among our members past May 22 Group 21 Plus in coordination with Eco Global Arte and the University of Tlaxcala opened and art exibition in the beautiful city of Tlaxcala, Mexico with the participation of our members Gloria Solas, Jose Luis Viejo Palacios and our Coordinator Alberto Cerritos.
University Art Gallery
From May 22nd to June 15th, 2006.

PROJECTS

MUSEO DE AMERICA, MADRID, SPAIN:
Jose Luis Viejo Palacios is pursuing the celebration of one of our Annual Encounter in Madrid, Spain for 2008 or 2009 (no dates available yet). In that account he met with the Director in charge of Exhibitions of such important cultural institucion Mrs. Elena Delgado Corral He is adding his effort to the iniciative of our board of directors who visited such Institution when being in Madrid past January 2006. We will continue updating all of you along what is happening.
We showcase a picture of the Museo de America so all of us can get a graphic idea about such institution.


SOLO SHOWS

CONGRATULATIONS to:
Francisca Blazquez who exhibited in Peru and Belgium
Christopher Ebejer who exhibited in his homeland of Malta
Papa Ndasuunje Shikongeni who exhibited in his homeland of Namibia
Chungtar Chong Lopez Maria Helena Leal Lucas who exhibited in Mexico and Germany
Amani Hassan and Abdel Aziz Hamad who exhibited in Bulgary
Hugo Pistilli who exhibited in his homeland of Paraguay
Noboru Yurugi who actually exhibits en Tlaxcala, Mexico

ART SCHOOLS FOR PEACE

The main concepts around our vision to create in all our countries Art Schools oriented to an art for peace are:
The main Concepts around our vision to create Art Schools for Peace in all countries where our organization holds representation are:
-The supreme importance of Human Solidarity as essential value of art.
-Learning and teaching that Equality and Justice are essential to beauty.
-Vocation for an art oriented to symbolize the conservatión of water, air and nature to keep livable our planet for the generations to come.
-Love for an art of Non Violence.
-To promote the production of public art between artists and comunities following the deepest feelings of the people.
-Promoting the respect as well the beauty of Human Rights as essential to human dignity.
-Art as individual as well social expression.
-Art as an instrument of individual and social freedom.
-Conveying Art as Universal language formed essentially by national as well regional and particular symbols.
-Multipolarity, Multiculturalism and Diversity central to art.
-Art as a tool to make a New World Possible.
-Artistic Innovation essential to postmodern creativity.
-Art as the supreme language of the peaceful ones!

OUR CHAIRMAN'S - CALL
WE HAVE TO ACT RIGHT NOW!

Group 21 Plus is excited to initiate all our international projects that will bring attention to the ongoing crisis of Peace as well of our Environment. Using art as the primary means to stimulate discourse and awareness is our main objective, everyone who is a Member is able to originate valuable efforts to make possible a new world. So collaboration among us is of fundamental importance. We have to make sure our inspiration outline this undertaking, along our individual existence:
Group 21 Plus means the celebration of togetherness in an alienated world. So my dearest fellows we have to participate on daily basis in this cultural enterprise which is Group 21 Plus..




THANX TO MARTIN ROJAS!

He provided the original sketch for our Group 21 Plus logo.
Also he is the main organizer of all our cultural exchanges in Tlaxcala, Mexico.
Thanx again Maestro Martin Rojas.

PARAGUAY

We congratulate our collaborator and good friend the poet Fernando Pistilli who as a Cultural Adviser of the Government of the V Department of the Caaguazú in Paraguay, gave a talking before the plenary of the Conference of the International Book Fair "Caaguazú Lee" which has been distinguished as one of the five best ones as an Innovating practice of the continent.



CANADIAN SUPPORT

The past month of May we received with great satisfaction an email from our good friend Bill Siksay Member of the Canadian Parliament.
There he praises our organizacion Group 21 Plus as a pioneering group of artists working hard to achieve a Global Art for Peace.
Besides he sent his good remarks fro our achievements in our Second International Encounter in Jamaica 2007. Again we thanks Bill Siksay for his support which demonstrates to us that we are not alone in this arduous task of promoting an Art for Peace.


go to top
NOUVEAUX MEMBRES

BIENVENUS
les artistes visuels:
Andrew Nhlangwini du SudAfrica,
Maria Helena Leal Lucas du Brésil,
Chungtar Chong Lopez du Vénézuéla
et Abdel Aziz Hamad du Sudan
nouveaux Membres de Group 21 Plus
Sommes actuellement déjà 31 nations
représentées par notre organisation.
EMPLACEMENT WEB

COMME VOUS REMARQUÉ NOTRE EMPLACEMENT WEB ÊTES MAINTENUES EN GRANDISSANT.
De fait actuellement vous pourrez voir un set de Sections bien ordonnées lesquelles montrent leur Contenu au fur et à mesure que nous déplaçons par elles.
Ces sections sont:
DOCUMENTS,
(RENCONTRES) :
TCHANG-TCHOUN 2004,
MADRID 2006
et JAMAÏQUES 2007,
MEMBRES,
CRITIQUES,
ÉCHANGES,
OEUVRES,
ASSOCIATIONS,
GOUVERNEMENTS Et INSTITUTIONS
Et JOURNAL la dernière Section.
J'espère que ce simple ordre sera utile et rapide pour tous ceux-là ceux qui veulent accéder facilement toutes à nos activités à la vitesse de la lumière.
21Plus Website

TROISIÈME ANNIVERSAIRE

Ce mois de juillet notre organisation Groupe 21 Plus accomplit son Troisième Anniversaire depuis la ville de Tchang-tchoun dans la Province de Xilin en République Populaire de Chine, un groupe créatif et global consacré à la promotion d'un Art par La Paix.
Depuis ma position de Coordinateur Général envoi tous à nos Membres ainsi qu'à nos Collaborateurs la salutation plus cordiale et affectueuse pour qu'ils tiennent cette date dans pleine Santé et plénitude créative.
Depuis nous construisons déjà un art durable par La Paix et l'Amitié!
Santé Cher Collègues!

JAMAÏQUE 2007 : ONE LOVE

Aán quand Basil Watson continue en cherchant un bon emplacement où tenir notre exposition Annuelle à Kingston nous continuerons à confier cela pour l'effectuer comme nous avons projeté.
Tous de fait peuvent voir les nouveaux modèles sculpturaux que nous montrons dans notre affiche de dirigé de de celle-ci qu'il reporte trimestriel ainsi que dans notre Section consacrée à Jamaïque 2007. Modèles présentés par les artistes Noboru Yurugi de Japon, Amani Hassan de Sudán, José Luís Viejo Palacios d'Espana et Alberto Cerritos -notre coordinateur général- du Canada et El Salvador.
Nous rappelons tous à nos Membres qu'ils nous envoient leurs modèles pour continuer à compléter le premier stade de ce Projet ambitieux consacré à La Paix.
Note et Graphiques

ÉCHANGE CULTUREL GLOBAL.

En suivant notre tâche de promouvoir des Échanges Culturels entre des Membres nuesros le passé mai 22 Groupe 21 Plus en coordination avec Écho Global Art et l'Université de Tlaxcala ont ouvert une exposition d'art dans la belle ville Tlaxcala, le Mexique avec la participation de nos membres Gloria Solas, de José Luís Viejo Palacios et notre Coordinateur Alberto Cerritos.
Galerie Universitaire
Depuis mai 22 à juin 15, 2006.

PROJETS

MUSÉE L'AMÉRIQUE, DE MADRID: Espagne.

Jose Luis Viejo Palacios on trouve en développant les contacts pour la conclusion de notre Rencontre Annuelle à Madrid, l'Espagne pour 2008 ou le 2009 (nous ne datons pas confirmées encore). En un tel sens il s'est réuni avec le Directeur à charge d'exposés d'une institution culturelle tellement importante Mme. Elena Delgado Corral Le il s'est ajouté aux efforts et l'initiative de notre Annuaire ceux qui ont visité cette Institution quand des Nous ont été à Madrid le passé janvier de 2006. Nous continuerons à informer les du progrès de José Luís dans ces gestions au fur et à mesure qu'ils soient développés.
Nous maintenant dans ce Rapport un graphique du Musée de l'Amérique pour que vous puissent visualiser cette Institution.


EXPOSITIONS INDIVIDUELLES

CONGRATULACIONES à:
Francisca Blazquez celui qui a exhibé au Pérou et en Belgique
Christopher Ebejer celui qui a exhibé dans son pays d'origine Malte
Papa Ndasuunje Shikongeni celui qui a exhibé dans son pays d'origine Namibie
Chungtar Chong Lopez and Maria Helena Leal Lucas ceux qui ont exhibé au Mexique and l'Allemagne
Amani Hassan et Abdel Aziz Hamad ceux qui ont exhibé en Bulgarie
Hugo Pistilli celui qui a exhibé dans son pays d'origine Paraguay
Noboru Yurugi celui qui exhibe actuellement en Tlaxcala, le Mexique

Des ÉCOLES d'ART PAR la PAIX.

Les Concepts centraux de notre vision pour créer des Écoles d'Art par La Paz ien tous les pays où notre organisation a une représentation en orientant l'art vers La Paix sont:
-Chanter à la Solidarité Humaine comme valeur essentielle de l'art.
-Exaltation de la Justice comme aspect essentiel de la beauté.
-Création d'un art en visant à symboliser la conservation de l'eau, l'air et la terre pour les générations à venir.
-Création d'un art qui exalte la Non-violence.
-Promouvoir la création d'un art public entre les artistes et la Communauté qui correspond aux sentiments des gens qui habitent ces espaces.
-L'art comme expression individuelle et sociale.
-L'Art comme instrument de la liberté individuelle.
-Les signes et les symboles particuliers comme essence d'un langage universel.
-La multipolarité et le multiculturalismo porteurs de nouveaux de significatifs.
-L'Art comme outil pour rendre Possible un Autre Monde.
-L'innovation artistique comme essence de la postmodernité.

APPELÉ - A l'ACTION
NOUS DEVONS MAINTENANT AGIR!
Groupe 21 Plus est déplacé en entamant tous nos projets Internationaux qui estaran focalisés à la crise énorme que la Violence et la guerre, le manque d'une Paix réelle et les dommages irréversibles à l'environnement nous avons produite.Utiliser l'art comme moyen primaire pour stimuler le discours visuel et la conscience nous est notre plus grand objectif.
Tous qui sommes des membres du Groupe 21 Plus sommes capables d'être à l'origine des efforts valuables pour rendre un Autre Monde Possible.
Alors la COLLABORATION entre nous est d'importance suprême. Nous devons s'assurer dont notre Inspiration porte ce but le long de notre existence individuelle:
Groupe 21 Plus signifie à l'avance la CELEBRACION de notre solidarité mutuelle dans un monde déjà aliéné.
Est ainsi que mes cher collègues nous à prendre part activement cette initiative culturelle qui est Groupe 21 Plus..



Merci au MARTIN ROJAS!
Le il a le dessin original pour notre Logo.
Le Mexique est de même le principal gestionnaire de toutes notre conventions culturelles en Tlaxcala.
Merci autre fois.

PARAGUAY

Nous félicitons à notre ami collaborateur et bon le poète Fernando Pistilli celui qui comme Conseiller Culturel du Gouvernement de la V Département du Caaguazú au Paraguay, a exposé devant ce qui est plénier de la Conférence sur la Foire Internationale du Livre "Caaguazú Lit" laquelle a été distinguée comme une des cinq meilleures Pratiques Innovatrices du continent.


Parlement Canadien

Le passé mois de mai nous recevons avec une grande satisfaction un email de notre bon amical Bill Siksay Délégué du Parlement canadien.
Dans le il reconnaît à notre organisation Groupe 21 Plus comme un groupe d'artistes pionnier d'un Art Global par La Paix. En outre nous déclare ses bons désirs par nos réalisations en Jamaïque 2007.
Remercions une autre fois à Bill Siksay son appui que nous elle démontre que nous ne sommes pas seuls dans cette tâche difficile de promouvoir un Art par La Paix..


go to top
NUEVOS MIEMBROS

BIENVENIDOS los artistas visuales
Andrew Nhlangwini de SudAfrica,
Maria Helena Leal Lucas de Brasil,
Chungtar Chong Lopez de Venezuela
y Abdel Aziz Hamad de Sudan
nuevos Miembros de Grupo 21 Plus
Actualmente ya somos 31 naciones representadas por nuestra organización.
SITIO WEB

COMO USTEDES HABRAN NOTADO NUESTRO SITIO WEB SE MANTIENE CRECIENDO. De hecho actualmente ustedes podrán ver un set de Secciones bien ordenadas las cuales muestran su Contenido a medida que nos movemos por ellas..
Estas secciones son:
DOCUMENTOS,
(ENCUENTROS) :
CHANGCHUN 2004,
MADRID 2006
& JAMAICA 2007,
MEMBRESIA,
CRITICA,
INTERCAMBIOS,
OBRAS,
ASOCIACIONES,
GOBIERNOS E INSTITUCIONES
Y REPORTES la última Sección.
Espero que este simple orden sera útil y rápido para todos aquellos quienes quieren acceder fácilmente a todas nuestras actividades a la velocidad de la luz.
21Plus Website

TERCER ANIVERSARIO

Este mes de Julio nuestra organización Grupo 21 Plus cumple su Tercer Aniversario de haber visionado desde la ciudad de Changchun en la Provincia de Xilin en la República Popular de China, un colectivo creativo y global dedicado a la promoción de un Arte por la Paz.
Desde mi posición de Coordinador General envío a todos nuestros Miembros así como a nuestros Colaboradores el más cordial y afectuoso saludo para que celebremos esta fecha en plena Salud y plenitud creadora.
Desde ya construímos un arte duradero por la Paz y la Amistad!
Salud queridísimos Colegas!


JAMAICA 2007: ONE LOVE

Aán cuando Basil Watson continúa buscando un buen sitio adonde celebrar nuestra exposición Anual en Kingston nosotros seguimos confiando en ello para realizarlo como hemos planeado. De hecho todos pueden ver los nuevos modelos escultóricos que mostramos en nuestro cartel de encabezado de esta reporte trimestral. así como en nuestra Sección dedicada a Jamaica 2007. Modelos presentados por los artistas Noboru Yurugi de Japón, Amani Hassan de Sudán, José Luís Viejo Palacios de España y Alberto Cerritos -nuestro coordinador general- de Canadá y El Salvador.
Recordamos a todos nuestros Miembros que nos envíen sus modelos para continuar completando el primer estadio de este ambicioso Proyecto dedicado a la Paz.
Tenemos que mantenernos en contacto permanente con Basil Watson para hacerle saber que cuenta con todo nuestro apoyo en sus esfuerzos para hacer posible este Proyecto.
Nota & Gráficas

INTERCAMBIO CULTURAL GLOBAL.

Siguiendo nuestra tarea de promover Intercambios Culturales entre nuesros Miembros el pasado Mayo 22 Grupo 21 Plus en coordinación con Eco Global Arte y la Universidad de Tlaxcala abrieron una exhibición de arte en la bella ciudad de Tlaxcala, Mexico con la participación de nuestros miembros Gloria Solas, José Luís Viejo Palacios y nuestro Coordinador Alberto Cerritos.
Galería Universitaria
Desde Mayo 22 a Junio 15, 2006.

PROYECTOS

MUSEO DE AMERICA, MADRID, ESPAñA:
José Luís Viejo Palacios se encuentra desarrollando los contactos para la celebración de nuestro Encuentro Anual en Madrid, España para el 2008 o el 2009 (no tenemos fechas confirmadas aún). En tal sentido él se reunió con la Directora a cargo de Exposiciones de tan importante institución cultural Sra. Dña Elena Delgado Corral
El se ha sumado a los esfuerzos y la iniciativa de nuestro Directorio quienes visitaron esa Institución cuando estuvieron en Madrid el pasado Enero del 2006. Nosotros continuaremos informandoles del progreso de José Luís en estas gestiones a medida que se desarrollen.
Ahora les mostramos en este Reporte una gráfica del Museo de América para que ustedes puedan visualizar esa Institución.


EXHIBICIONES INDIVIDUALES

CONGRATULACIONES a :
Francisca Blázquez quien exhibió en Perú y Bélgica.
Christopher Ebejer quien exhibió en su país de orígen Malta.
Papa Ndasuunje Shikongeni quien exhibió en su país de orígen Namibia.
Chungtar Chong Lopez y Maria Helena Leal Lucas quienes exhibieron en Mexico and Alemania.
Amani Hassan y Abdel Aziz Hamad quienes exhibieron en Bulgaria
Hugo Pistilli quien exhibió en su país de orígen Paraguay.
Noboru Yurugi quien actualmente está exhibiendo en Tlaxcala, Mexico.

ESCUELAS DE ARTE POR LA PAZ

Los Conceptos centrales de nuestra visión para crear Escuelas de Arte por la Paz y en todos los países en los cuales nuestra organización tiene representación orientando el arte hacia la Paz son:
-Cantar a la Solidaridad Humana como valor esencial del arte.
-Exaltación de la Igualdad y la Justicia como aspectos esenciales de la belleza.
-Creación de un arte orientado a simbolizar la conservación del agua, el aire y la tierra para las generaciones venideras.
-Creación de un arte que exalte la No Violencia.
-Impulsar la creación de un arte público entre los artistas y la comunidad que corresponda a los sentimientos de la gente que habita esos espacios.
-Promover el Respeto y la Belleza de los Derechos Humanos como parte esencial de la Dignidad Humana.
-El arte como expresión individual y social.
-El Arte como instrumento de la libertad social e individual.
-Los signos y símbolos particulares como esencia de un lenguaje universal.
-La multipolaridad, el multiculturalismo y la diversidad portadoras de nuevos significantes.
-El Arte como herramienta para hacer Posible Otro Mundo.
-La innovación artística como esencia de la postmodernidad.
-Arte como el lenguaje supremo de los pacificos.
LLAMADO - A LA ACCION
TENEMOS QUE ACTUAR AHORA!
Grupo 21 Plus está emocionado al iniciar todos nuestros proyectos Internacionales que estarán enfocados a la enorme crisis que la Violencia y la guerra, la falta de una Paz real y los daños irreversibles al medio Ambiente han generado. Usar el arte como medio primario para estimular el discurso visual y la conciencia es nuestro mayor objetivo, Todos y cada uno de nosotros quienes somos miembros del Grupo 21 Plus somos capaces de originar valuables esfuerzos para hacer Otro Mundo Posible. Entonces la COLABORACION entre nosotros es de suma importancia. Tenemos que asegurarnos de que nuestra Inspiración lleva este propósito a lo largo de nuestra existencia individual :
Grupo 21 Plus significa la CELEBRACION de nuestra solidaridad mutua en un mundo ya de antemano alienado. Así es que mis queridísimos colegas a participar activamente en esta iniciativa cultural que es Grupo 21 Plus.



GRAXIAS A MARTIN ROJAS!
El ha proveido el dibujo original para nuestro Logo.
Asimismo es el principal gestor de todos nuestos convenios culturales en Tlaxcala, Mexico.
Gracias otra vez Maestro Martín Rojas.

PARAGUAY

Felicitamos a nuestro colaborador y buen amigo el poeta Fernando Pistilli quien como Asesor Cultural de la Gobernación del V Departamento del Caaguazú en Paraguay, expuso ante el plenario de la Conferencia sobre La Feria Internacional del Libro "Caaguazú Lee" la cual ha sido distinguida como una de las cinco mejores Prácticas Innovadoras del continente.


APOYO CANADIENSE

El pasado mes de mayo recibimos con gran satisfacción un email de nuestro buen amigo Bill Siksay Diputado del Parlamento canadiense.
En el reconoce a nuestra organización Grupo 21 Plus como un colectivo de artistas pionero de un Arte Global por la Paz.
Además nos manifiesta sus buenos deseos por nuestros logros en Jamaica 2007.
Agradecemos otra vez a Bill Siksay su apoyo que nos demuestra que no estamos solos en esta ardua tarea de promover un Arte por la Paz.


ir al inicio

Viejo Palacios, Gloria Solas
y Alberto Cerritos en Tlaxcala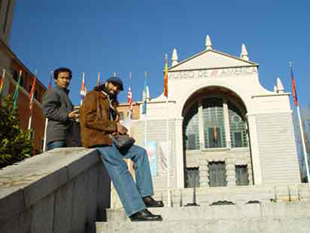 Pongpan and Bharat at Museo de America,
Madrid, Spain



Voices for Peace Project
Group 21 Plus
Chairman and Founder:
Alberto Cerritos (Canada/El Salvador)
Board of Directors:
Basil Watson (Jamaica),
Martin Rojas (Mexico),
Bharat Bhushan (India),
Christopher Ebejer (Malta)
Pongpan Chantanamattha (Thailand).

For more information on Group 21 Plus, go to Group21Plus
Newsletter design and editing by ZIBERGLASS