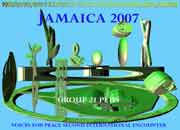 GROUP 21 PLUS MEMORANDUM.

English VERSION...

Group 21 Plus was founded in China on the occasion of the Seventh International Symposium of Sculpture celebrated in the City of Changchun in the Province of Xilin, in the Northeast of the People's Republic of China in September of 2004.
Its name of Group 21 Plus refers to the 21 Nations that firstly organized themselves in the Group as well to those others that have been added posteriorily as part of its permanent growth.

Our main languages in the Group are: Spanish, English and French.

Group 21 Plus is a Global Group that reunites Visual Artists from 32 Nations as well a Network of prestigious Collaborators like Art Critics, Psicologists, Antropologists and Poets.

Past January 2006 we celebrated our First World-Wide Encounter in Madrid, Spain.

Along this year 2006 our artists have celebrated the following Bilateral and Multilateral Encounters among them:
1-Japan-Mexico..(Noboru Yurugi Exhibition in Tlaxcala, Mexico)..2006
2-Mexico-Spain..(Martin Rojas Exhibition in Madrid, Spain)..2006
3-Spain-Mexico-Canada..(Gloria Solas, Jose Luis Viejo and Alberto Cerritos Exhibition in Tlaxcala, Mexico)..2006
4-Spain-Mexico-Canada..(Gloria Solas, Jose Luis Viejo and Alberto Cerritos Exhibition in Madrid, Spain)..2006

Besides, there are Bilateral and Multilateral agreements waiting to be celebrated, these Agreements are established mainly by the mutual respect among artists Members of two or more nations.

Those Agreements depend in a very decisive way on the appreciation value that the artists Members grant to the Bilateral and Multilateral Collaboration.
And they are a Central Pillar of our work because as such they maintain in a dynamic flood our creative work in Permanent Art Exhibitions organized by the Artists Members.

Also the Group has contributed in the present year 2006 to open the first European Chapter in Madrid, Spain for COMAV.
Besides our artists collaborate with the Comav network that is with The World-Wide Council of Visual Artists which has its permanent seat in Mexico City, organizing Encounters of Public Art and Muralism so the case of our Member of SouthAfrica Mr. Andrew Nhlangwini who at the moment still negotiating the organization of such event for next year 2007.

We are also open to expand our Collaboration with new Organizations.

We have to mention that we maintain a Multiple Correspondence in our open Network, just to keep all of us updated, of International events like Symposiums, Conferences, Encounters, Biennials, Triennials, etc..

The Group maintains its Web site updated with different Sections that include:
- Documents,
- Membership,
- Governments and Institutions,
- Bilateral and Multilateral Interchanges,
- Annual Encounter,
- Associations,
- Art Critic Section and
- Bulletins.
at
http://cerritos.cyberbro.com/
Group21PlusPage/Group21Plus.html
and
http://cerritos.cyberbro.com/
Group21PlusPage/Index21.html
Our Site counts on immediate Translation to 8 languages.

At the moment Group 21 Plus organizes an Art Auction in favor of our Representative for Colombia, our Colleague and Brother Artist Alvaro Diaz Lenis who when fulfilling an artistic tour to Frankfurt, Germany, suffered a severe cardiac attack and soon another cerebral attack that has left him paralyzed.
With the support of his brother Diego who is a resident in Florida, USA and the help of the community of Colombian artists there, we are going to celebrate such Art Auction this coming 15th of December of 2006 in the City of Orlando, Florida, USA. On this Important Event I have been and I will be sending updated information to all our Members.

So if by any chance you like to send any Artwork to help our brother Alvaro just email to HIS BROTHER Diego Diaz to:

mayodd64@hotmail.com

DIEGO DIAZ (ADDRESS)
29-62 Spring Heather PL
Oviedo,Fl 32766
USA
Tel 321-303-4082..DIEGO DIAZ, Cel...321-303-4082.....

BANK ACCOUNT.......
DIEGO DIAZ
WACHOVIA BANK,NA
1825 E BROADWAY.
OVIEDO,FL 32765
ACCOUNT #1010157892671
SWIFT CODE:PNBPUS33

Group 21 Plus counts among its Fundamental Objectives:
1-To Create Art for Peace and NonViolence,
2-To create Public Memorials for Peace and NonViolence -Our First Memorial is Proposed for Kingston, Jamaica for April 2007.
3-To create Art Schools for Peace and NonViolence.
4-To Create Groups of Art for Peace and NonViolence in our respective nations
5-To Create Corridors-Parks for Peace and NonViolence in the World (The first such Project initially proposed to the city of Buenos Aires, Argentina).

Group 21 Plus has the politics to grow and to expand from The Special Recommendation of the Artists Members in selecting new artists and with the approval of our Chairman.

Group 21 Plus Accounts with a Directory of Pioneering Directors elected as such in our First International Encounter in Madrid.

THIS YEAR 2006 WE LAMENTED THE LOST OF ONE OF OUR DEAREST CO-FOUNDERS:
OUR BELOVED BROTHER ARTIST HUGO PISTILLI FROM ASUNCION, PARAGUAY.

Group 21 Plus has its present Seat in the City of Vancouver in the West Coast of Canada.

HEALTH And CREATIVITY!

Sincerely Alberto Cerritos
Founder and Chairman of Group 21 Plus.

November 19th of 2006
Vancouver, CANADA.



MEMORANDUM
ACERCA DEL GRUPO 21 PLUS..

VERSION CASTELLANO (1)...

El Grupo 21 Plus fue fundado en China en ocasion de celebrar el Septimo Simposio Internacional de Escultura en la Ciudad de Changchun en la Provincia de Xilin, en el Noreste de la Republica Popular de China en Septiembre del 2004, en la antigua Manchuria.
Su nombre de Grupo 21 Plus alude a las 21 primeras Naciones que se organizaron en el Grupo, al Siglo 21 en el cual vivimos y ademas a aquellas otras naciones que se han ido agregando a posteriori como parte de nuestro permanente crecimiento.
Nuestras principales lenguas en el Grupo son:
Español, Ingles y Frances.
El Grupo 21 Plus es un Colectivo Global que reune a Artistas Visuales de 33 Naciones!
Y a una Red de Colaboradores que comprenden prestigiosos Criticos de Arte, Psicologos, Antropologos y Poetas.
El pasado Enero 2006 realizamos nuestro Primer Encuentro Mundial en Madrid, España.
Ademas ya nuestros artistas han celebrado los siguientes encuentros Bilaterales entre ellos:

1-Japon-Mexico..(Exposicion de Noboru Yurugi en Tlaxcala, Mexico)..2006

2-Mexico-España..(Exposicion de Martin Rojas en Madrid, España)..2006

3-España-Mexico-Canada..(Exposicion de Gloria Solas, Jose Luis Viejo y Alberto Cerritos en Tlaxcala, Mexico)..2006

4-España-Mexico-Canada..(Exposicion de Gloria Solas, Jose Luis Viejo y Alberto Cerritos en Madrid, España)..2006

Ya hay acuerdos Bilaterales y Multilaterales para celebrar otros Encuentros, estos son establecidos por el acuerdo mutuo entre artistas Miembros de dos o mas naciones. Estos dependen de manera decisiva del altor valor que los artistas Miembros conceden a la Colaboracion Bilateral y Multilateral.

Estos acuerdos son un Pilar Central de nuestro trabajo pues mantiene en creciente la dinamica labor creativa en Exhibiciones Permanentes organizadas por los mismos Artistas Miembros.

Ademas ya el Grupo ha contribuido en el presente 2006 a Abrir la primera Sede Europea en Madrid, España para el COMAV.

Tambien nuestros artistas colaboran con la red Comav o sea con el Consejo Mundial de Artistas Visuales con sede permanente en Mexico ya sea organizando Encuentros de Arte Publico y Muralismo tal el caso de nuestro Miembro de SudAfrica quien actualmente organiza ese evento en Sudafrica para el proximo 2007.

Estamos tambien abiertos a expandir nuestra Colaboracion con nuevas Organizaciones.

Ademas colaboramos manteniendo abierta la Multiple Correspondencia en nuestra Red acerca de eventos Internacionales como Simposios, Conferencias, Encuentros, Bienales, Trienales, etc..

El Grupo mantiene su Sitio Web actualizado con distintas Secciones que comprenden
-Documentos,
-Membresia,
-Gobiernos e Instituciones,
-Intercambios Bilaterales y Multilaterales,
-Encuentros Anuales,
-Asociaciones,
-Seccion de Criticas y
-Boletines..
en
http://cerritos.cyberbro.com/
Group21PlusPage/Group21Plus.html
y
http://cerritos.cyberbro.com/
Group21PlusPage/Index21.html
El Sitio cuenta con Traduccion inmediata a 8 lenguas.
Actualmente el Grupo 21 Plus impulsa una Subasta de Obra a favor de nuestro Representante por Colombia Artista Alvaro Diaz Lenis quien al cumplir una gira artistica por Frankfurt, Alemania sufrio un ataque cardiaco y luego otro ataque cerebral que lo han dejado paralizado.
Con el apoyo de su hermano Diego residente en Florida y de la comunidad de artistas colombianos en Orlando la Subasta se realizara el venidero 15 de diciembre del 2006.
Sobre este Importante Evento estoy enviando desde la Coordinacion General informacion Permanente a todos nuestros Miembros.

El grupo cuenta entre sus objetivos primordiales:
1-Crear Arte por la Paz y la No Violencia,
2-Contribuir a Crear Memoriales Publicos por la Paz -el Primero Propuesto para Kingston, Jamaica para Abril del 2007.
3-Abrir Escuelas de Arte por la Paz.
4-Crear Colectivos de Arte por la Paz y la No Violencia en nuestras respectivas naciones.
5-Corredores-Parques por la Paz y la No Violencia en el Mundo (Proyecto ya inicialmente propuesto para la ciudad de Buenos Aires, Argentina).

El Grupo 21 Plus impulsa la politica de crecer a partir de la Recomendacion Especial de los artistas Miembros seleccionando a otros artistas y aprobados por la Coordinacion General.

EL Grupo Cuenta con un Directorio de Directores Pioneros elegidos como tales en el Ultimo Encuentro de Madrid.

ESTE AñO 2006 LAMENTAMOS LA TRISTE PERDIDA DE UNOS DE NUESTROS MAS CONNOTADOS CO-FUNDADORES:
NUESTRO QUERIDO Y RECORDADO MAESTRO HUGO PISTILLI DE ASUNCION, PARAGUAY

Nuestra Sede actual es la Ciudad de Vancouver en la Costa Oeste del Canada.

SALUD Y CREATIVIDAD!

Sinceramente Alberto Cerritos
Fundador y Coordinador General del Grupo 21 Plus.

Noviembre 19 del 2006
Vancouver, CANADA.