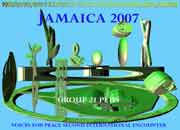 AUCTION

ORLANDO, FLORIDA, US
MARCH 1ST, 2007

DONATIONS TO ALVARO
GROUP 21 PLUS.

English VERSION...

ARTIST.....ARTWORK....PERCENTAGE....COUNTRY

1-RAQUEL VILLAREAL
2 ARTWORKS...100%...(COSTA RICA)

2-SILVIA ALBUIXECH
$100 DOLLARS............ARGENTINA)

3-ARMANDO HERNANDEZ
1 ARTWORK...100%...(MEXICO)

4-ALBERTO CERRITOS
15 LITHOGRAPHIES...100%
(EL SALVADOR/CANADA)

5-JUAN MANUEL FERNANDEZ CUICHAN
1 PAINTING...100%...(ECUADOR)

6-JOSE LUIS VIEJO PALACIOS
1 WHEEL CHAIR......100%.....(SPAIN)

7-MARIA HELENA LEAL LUCAS
1 LITHOGRAPHY...100%....(BRASIL)

8-CHUNGTAR CHONG LOPEZ
1 LITHOGRAPHY...100%....(VENEZUELA)

Also it will be auctioned around 60 Alvaro's colour Drawings.
So if by any chance you like to send any Artwork to help our brother Alvaro just email to HIS BROTHER Diego Diaz to:

mayodd64@hotmail.com

DIEGO DIAZ (ADDRESS)
29-62 Spring Heather PL
Oviedo,Fl 32766
USA
Tel 321-303-4082..

DIEGO DIAZ
Cel...321-303-4082.....

BANK ACCOUNT.......
DIEGO DIAZ
WACHOVIA BANK,NA
1825 E BROADWAY.
OVIEDO,FL 32765
ACCOUNT #1010157892671
SWIFT CODE:PNBPUS33

UPDATED INFORMATION AT:
http://www.ondalatina.net/subasta/index.php

HEALTH And CREATIVITY!

Sincerely Alberto Cerritos
Founder and Chairman of Group 21 Plus.

November 19th/29th, 2006
January 13th/29TH, and Febr. 20th. 2007
Vancouver, CANADA.



SUBASTA

ORLANDO, FLORIDA, US
MARZO 1 DEL 2007

DONACIONES
GRUPO 21 PLUS A ALVARO..

VERSION CASTELLANO (1)...

ARTISTA.......OBRA.....PORCENTAJE...PAIS..

1-RAQUEL VILLAREAL
2 OBRAS...100%...(COSTA RICA)

2-SILVIA ALBUIXECH
$100 DOLLARES............ARGENTINA)

3-ARMANDO HERNANDEZ
1 OBRA...100%...(MEXICO)

4-ALBERTO CERRITOS
15 LITOGRAFIAS..................100%
(EL SALVADOR/CANADA)

5-JUAN MANUEL FERNANDEZ CUICHAN
..1 CUADRO...100%...(ECUADOR)

6-JOSE LUIS VIEJO PALACIOS
1 SILLA DE RUEDAS......100%.....(ESPAŅA)

7-MARIA HELENA LEAL LUCAS
1 LITOGRAFIA...100%....(BRASIL)

8-CHUNGTAR CHONG LOPEZ
1 LITOGRAFIA...100%....(VENEZUELA)

TAMBIEN SE SUBASTARAN CERCA DE 60 DIBUJOS A COLOR DE ALVARO.
Quien quiera enviar sus Donaciones puede hacerlo a:

CELULAR DE DIEGO DIAZ
321-303-4082
.....mayodd64@hotmail.com

DIEGO DIAZ
29-62 Spring Heather PL
Oviedo,Fl 32766
USA
Tel 321-303-4082

CUENTA BANCARIA.......
DIEGO DIAZ
WACHOVIA BANK,NA
1825 E BROADWAY.
OVIEDO,FL 32765
ACCOUNT #1010157892671
SWIFT CODE:PNBPUS33

MAS INFORMACION EN:
http://www.ondalatina.net/subasta/index.php

SALUD Y CREATIVIDAD!

SINCERAMENTE ALBERTO

Coordinador General
GRUPO 21 PLUS

Nov, 17/29 del 2006
Enero 13/29, Febrero 20 del 2007
Vancouver, Canada